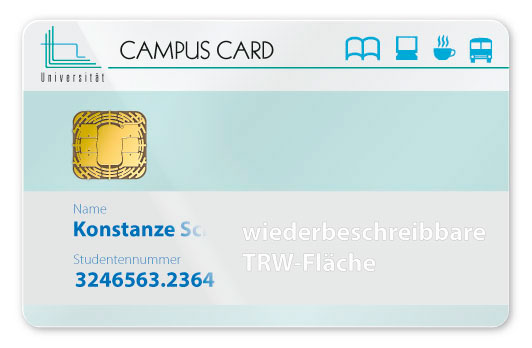 What is Thermo-Rewrite (TRW)?
TRW-Folie auf der Kartenoberfläche ermöglicht wiederholtes optisches Personalisieren, das heißt Löschen und Wiederbeschreiben von Karten. Diese Technologie ist besonders sinnvoll für Ausweise, bei denen sich Parameter ändern wie etwa die Semestergültigkeit bei Studierendenausweisen, Name und Gültigkeitsdatum bei Besucherausweisen oder für befristete oder terminierte Berechtigungen (z.B. Termin letzte Schulung). Durch diese Flexibilität kann der einzelne Ausweis über längere Zeiträume aktuell gehalten werden und schont somit Umwelt und Geldbeutel.
Applications of TRW-cards​
University student ID-cards
Student ID-cards
Visitor cards
Tickets and event pass
Tickets
Skiing passes
TRW-printing: That's How It Works
For printing and rewriting, you need a special TRW-printer. The dyeing of the personalisation can be realised in blue or black. This, however, does not depend on the printer but rather on the used TRW-foil on the card. The thermo head of the TRW-printer stimulates the layer of TRW-foil to dye or fade. Both colouring and deleting can be regulated via the heat intensity and cooling rate of the developer in the foil.
| | |
| --- | --- |
| 10 mm stripe, horizontal | blue or black |
| 20 mm stripe, horizontal | blue or black |
| TRW-field in a free format | min 8 x 40 mm, blue or black |
| full surface coating | blue or black |
How Often Can TRW-Field be Rewritten?
According to official statistics, a lifespan of 500 write-and-delete-cycles is estimated. However, this figure is rarely reached in praxis. Faulty printer settings, dirt, or too much UV-influence can significantly shorten the theoretical figure. Proper maintenance of the printer and the adherence to instructions is strongly advised!
Caution! Sensitive to Light 
Cards with a TRW-coating should be protected from the sun. The sensitive layer yellows under the influence of UV and becomes unsightly.
You may also be interested in:
© Alexandr Bognat – stock.adobe.com

© abimagestudio – stock.adobe.com