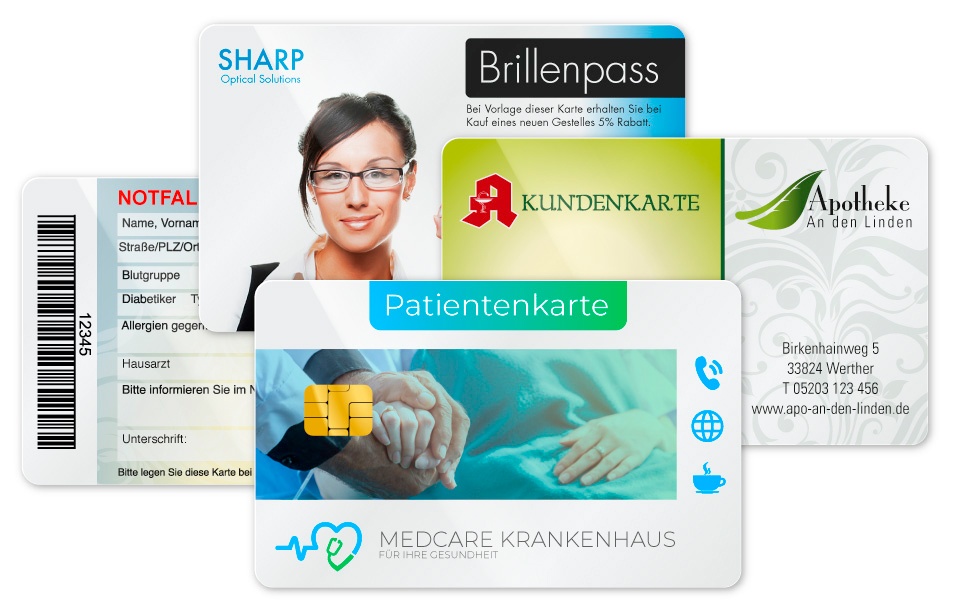 Cards and RFID-Media in the Health Sector
The topic of health is on of the mega-trends of the century! New applications in which cards and RFID-media play an important role are developing with a great dynamic.
Identification of patients and therapists
Access and time logging for hospital personel
Patient data memory
Vending
Payment for telephone systems and internet use
Customer cards and vouchers
Insurance cards, health insurance cards
Patient cards and employee cards for clinics
Pharmacy customer cards and vouchers
Name tags
Access cards
Doctor ID-cards and care passes
Emergency passes and provision ID-cards
Blood and organ donor ID-cards
Eyeglass prescription card
Pharmacy Customer Cards & Vouchers
Customer cards for pharmacies are, in a broader sense, customer retention tools. However, in connection with pharmacy-CRM-solutions they offer added value, e.g. by an automated interdependency check for all prescriptions. Plasticard-ZFT offers pharmacy customer cards in runs from 100 cards, individually printed and with the necessary consecutive barcode for all common register systems in Germany.
Voucher cards are a classic in customer advertisement, acquisition and reward. They can also be equipped with a barcode and can be provided either with a set credit balance or variably chargeable. With a scrat-off field they are also suited for online applications. Plasticard-ZFT delivers voucher cards with your own design from 100 card, also with carrier and counter displays. Alternatively, an environmentally friendly cardboard card is also possible.
Cards and ID-Media in the Clinic and Caring Sector
Patient card for telecommunication systems, vending machines and access.
Überwiegend Kontaktchipkarten für TK-Anlagen von Siemens, Avaya oder Telba. Dient der Freischaltung und Abrechnung digitaler Dienste wie Telefon oder TV. Kombinierbar mit Zugangsrechten und Bezahlfunktion an Verpflegungs- und Getränkeautomaten. Diese Karten werden seit über 20 Jahren von Plasticard-ZFT produziert.
Employee cards for medical institutions.
Usually a personalised mulit-function ID-card mit RFID-Chip für Zutritt, Verpflegung, Kantine und Zeiterfassung. Auch als Signaturkarte für hochsichere Datenübertragung, SingleSignOn, eTicket für den ÖPNV und PKI möglich. Plasticard-ZFT produziert in Zusammenarbeit mit Systemhäusern für physischen und logischen Access Ausweiskarten für Kliniken. Eine der Besonderheiten ist die Eignung für regelmäßige Desinfektion dieser Karten. 
Name tags for medical personel.
Additionally to the employee card, name tags for all employees can be produced and managed. Modern Card-Management-Systems control and manage both employee cards and name tags. Plasticard-ZFT offers blank cards or readily personalised cards as well as suitable accessories for the fastening on clothing (clips, containers, magnet holders).
Access cards for the automated openig of doors (hands-free).
As a special case of the employee card, special cards or key fobs with an especially high range can also be delivered. These cards allow a connection with a corresponding reader and the automatic recognition of authorised persons from a distance of up to 8 meters. Combi-cards with HF-chip (e.g. MIFARE or LEGIC) and UHF-chips for wide range readers are also produced by Plasticard-ZFT.
Caring Passes
Caregivers in stationary and ambulant caring contexts can minimise administrative expenses with chip cards. The entering of private rooms, the protocolling of provided care can be simplified with the RFID-caring pass. Plasticard-ZFT offers, together with specialised system houses, suitable media for the access to flats, the automatization of protocolling and the localisation of persons in need of care.
Data Memory Cards for Medical Devices
Dialysis, inhalation and other medical devices work with medicaments with a defined quantity and dosage. Chip cards on which the prescribed values are often used for the individual adaptation of these parameters to the individual patient. Plasticard-ZFT develops customised concepts with a fitting chip and customer specific form factors (e.g. as a plug-in card, SIM, or key).
Further Typical Card Types in the Health Sector
Health Insurance Card for statutory and private health insurance eGk and KVK.
In Deutschland geben alle gesetzlichen und die Mehrheit der privaten Krankenversicherungen die elektronische Gesundheitskarte (eGK) für ihre Versicherten aus. Die Karte wird aktuell immer noch vorwiegend zur Identifikation des Inhabers verwendet. Anwendungen als Datenspeicher für Gesundheitsdaten oder Rezepte scheiterten wiederholt an Datenschutzproblemen.
Doctor ID-Card
Wie die eGK eine Chipkarte mit Kryptoprozessor und Personalisierung (auch mit Lichtbild). Geeignet für die sichere Datenübermittlung zwischen Krankenhäusern oder Arzt und kassenärztlicher Vereinigung, alternativ auch mit One-Time-Passwort-Token realisierbar. Plasticard-ZFT steht als Hersteller von Gesundheitskarten und Arztausweisen zur Verfügung, insbesondere auch für kleinteilige Auflagen unter 1000 Stück. Als Dienstleister für die Personalisierung, die sichere Identifikation (Postident o.ä.) und den Brief- oder Paketversand hat Plasticard-ZFT jahrelange Erfahrungen.
Provision and Emergency ID-Cards
Are issued by private or public organisations to customers or members. This kind of ID-card contains visually and automatically readable data on the customer (e.g. health data) and existing contracts. ID-cards of this kind are also well suited for marketing and advertisement. Plasticard-ZFT produces blood donor cards, emergency and provision ID-card, e.g. for funeral homes.
Data Memory Card for Exercise Equipment
You want the settings for exercise equipment or training results to be stored quick and easy and reuse them for every training? Chip cards are also the perfect solution for that. Our specialists are happy to advise you regarding the choosing of the right chip and reading device.
Eyeglass Prescription Cards
Eyeglass prescription cards can be comfortable designed as a promotionally effective plastic card and finished with a card printer in a matter of seconds. Different to the traditional solution with laminating machines, these eyeglass prescription cards appear mor professional and can be printed directly in the store.
© contrastwerkstatt – stock.adobe.com

© moodboard – stock.adobe.com

© Production Perig – stock.adobe.com