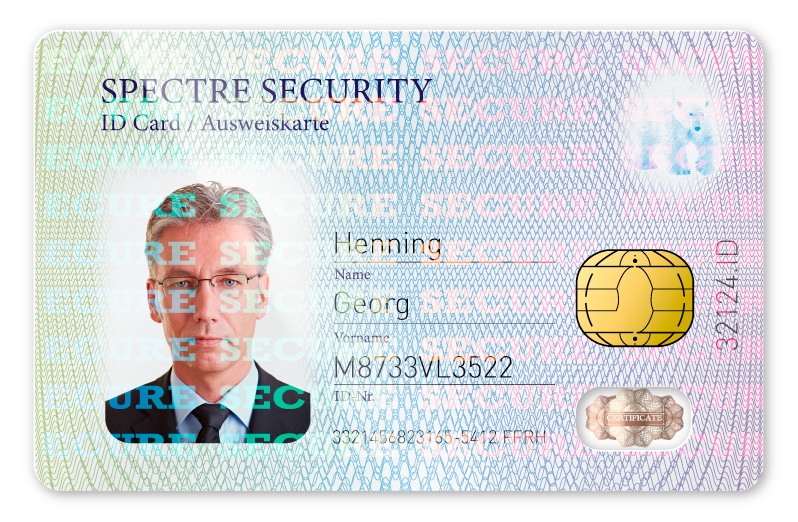 Cards for Security Applications, Sovereign ID-cards and eGovernment
Police and military ID-cards, driving licences, ID-cards and many other cards which are issued by government institutions have one thing in common: They require a high level of forgery proofing. Additionally, high demands are set for the trustworthiness of the production and distribution of those cards.
Plasticard-ZFT can support you in the development and issuing of suitable high-security cards. The prerequisites for high security products and production are given. Here you can find a selection of features needed for high-secure ID-cards:
Visual Security Features dienen der visuellen Kontrolle der Echtheit von ID-Karten mit oder ohne Hilfsmittel. Dazu zählen Sicherheitsdrucke (Mikroschrift, Guillochen, Irisdruck), Oberflächenstrukturen wie MLI- und CLI-Elemente, Hologramme und holografische Elemente über Passfoto und Personalisierung und Teiltransparenzen. Spezialdruckfarben (OVI oder UV) sind durch Kippeffekte oder UV-Licht erkennbar.
High Temperature and Long-Life Material
Verbunden mit Hochsicherheit ist in der Regel auch die Notwendigkeit, die Funktionalität der ID-Karten für einen langen Zeitraum zu gewährleisten. Für Nutzungszeiträume über 5 bis 10 Jahre kommen häufig Polykarbonat- oder Verbundwerkstoffe zum Einsatz. Plasticard-ZFT verfügt über eigene Entwicklungskapazitäten, die für jedes Projekt und jede Anforderung geeignete Materialvorschläge ableiten und bemustern kann. Mehr Informationen finden Sie unter High-temperature Cards.
Electronic Security Features
Modern ID-cards can be read automatically. This means that the used chips need to show a maximum of resilience against unauthorised reading, falsifying and the imitation of identities. Plasticard-ZFT has the necessary competences in choosing suitable chips and encryption methods (e.g. AES, RSA, or ECC) and their interaction with existing infrastructures such as access, PKI, payment, or ticketing.
Data Protection and IT-Security
Aside from the product, the producer also needs to fulfil the highest demands regarding physical and logical security. Plasticard-ZFT does not only have a production site with high security features but also offers a certified infrastructure with high-security IT and hardware-security-modules (HSM) like they are needed for the handling of certificates, personalisation and transaction data.
Authentication & Accreditation
Access control
PKI
Ticketing
Payment
High-security ID-cards
Police and military ID-cards
Driver's licences
ID-cards