Customised Special Formats, also with Predetermined Breaking Point

Plastic cards in free form offer maximum freedom to your imagination. We can deliver any kind of free form RFID-card up to a size of 600 mm x 400 mm with individual printing, additional features, and finishing. You receive your free form card in the usual credit card quality. For some formats, we already have punching tools; others are available on demand.
Innenspiegelanhänger für Fahrzeuge sind besonders geeignet für die temporäre Kennzeichnung von PKW oder LKW mit RFID-Tags. Die aus 2 bis 5 m lesbaren RFID-Anhänger sind individuell bedruckt und nummeriert lieferbar. Der UHF-Chip ist unsichtbar in Material integriert, das bis zu 100°C standhält und UV-Stabilität über mindestens 2 Jahre bietet.
Possible Shapes and Applications
Standard Free Formats Available
Honeycomb (Hexagon)
Circle (50 mm)
Puckered Lips
Carrying Bag
Shoe Transponder
Mirror Tag
ISO card with break-off tag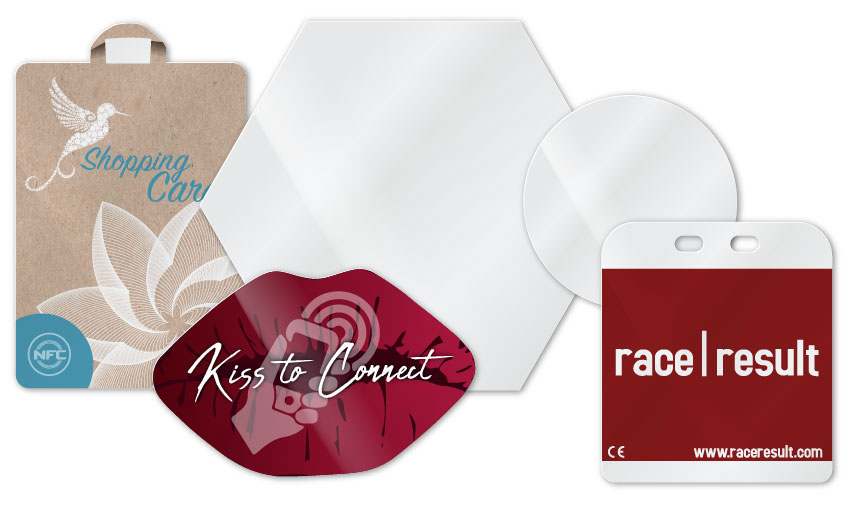 RFID-shoe transponders are special tags for fastening of shoelaces. They serve as means for the digital recording and measurement of athletes at major sporting events such as marathon, triathlon, city runs, or mountain bike races. The reusable shoe-chip fulfils all expectations for a long-lasting product which can withstand different weather conditions, environmental influences and mechanical stress during sporting events. 
You may also be interested in:
© Monkey Business– stock.adobe.com

© Daxiao Productions – stock.adobe.com

© abimagestudio – stock.adobe.com