Shape, Colour, Technology - RFID Labels for Identification, Information and Security
RFID-Labels have numerous areas of application. The serve as an "upgrade" to already existing ID-cards or enable the automatic identification of objects. RFID-tags for marketing-, logistics-, or security-applications can be sticked onto nearly every surface. The plastic tags with RFID-chip can be supplied transparent, white or printed. Plasticard-ZFT produces RFID-labels according to your wishes in standard formats or nearly any desired format. You haven't found what you are looking for? Contact us! We will find a solution.
Automatic check of driving licenses
Providing evidence of a regular driving license check by the vehicle owner is prescribed by legislators in § 21 of the German Road Traffic Act (Straßenverkehrsgesetz). This is of particular significance for companies with a large fleet. For car rental companies, the electronic option for checking the driving license offers a considerable opportunity for simple and quick processes. Plasticard-ZFT offers a wide range of RFID chips which enable an incorporation of control algorithms into existing infrastructures for access control or time recording. Protection against manipulation can be achieved by mechanical and/or electronic tamper-proofing.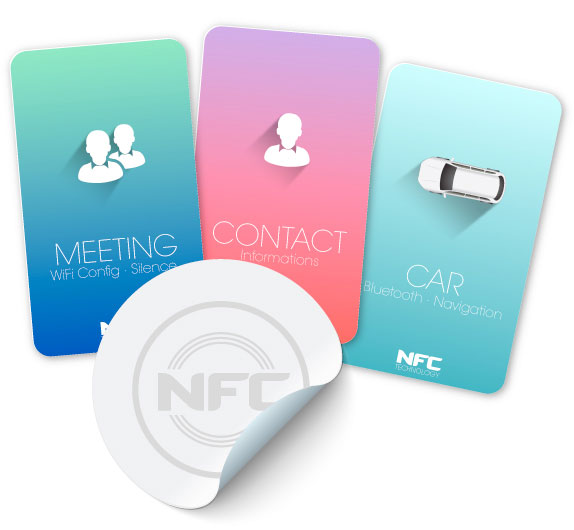 NFC-Tags inform, control and bring new momentum to business
NFC tags can be used anywhere. The appropriate reader can be found in nearly everyone's pocket – most smartphones provide the needed technology. If the NFC function is activated on the smartphone, a multitude of things suddenly becomes very simple: One "tap" transfers contact data from the tag to the mobile phone, accesses information on products and websites, or initiates phone calls. This works in a way that is much faster and simpler than scanning a QR code with the camera. Furthermore, an appropriately programmed NFC tag can also be used to activate numerous other functions:
In the card: Bluetooth on, Wifi off
Before the meeing: ring tone off
at home: connect to Wifi, music on
In the car or at home: make emergency call
In the Hotel: connect to guest-Wifi
In the office: ring tone off, connect to Wifi
UHF technology for vehicles
RFID-windshield labels are primarily used in boarder traffic and for access control and the identification of vehicles. UHF-labels and UHF-reading antennas are an efficient alternative to the common reading pillars. The adhesive windshield labels made by Plasticard-ZFT can be individually printed and may be personalised under laminate. Printed security features offer protection against falsifications as well as the tamper-proofing features to prevent manipulation. Material and inks are made for the permanent use in vehicles and are thus UV- and heat-resistant up to 70°C. In combination with the corresponding reading device, the UHF-windshield tags can achieve a reading range of up to 7 m.
Smart Type Plates
On-Metal-Tags im Standard Plastikkartenformat können mit handelsüblichen Kartendruckern bedruckt werden. Die Labels sind mit einer speziellen Ferritschicht ausgestattet und können auf metallischen Oberflächen angebracht und mit tragbarem RFID-Lesegeräte oder NFC-fähigen Smartphones ausgelesen und beschrieben werden. Neben dem klassischen Kreditkkartenformat (ID1) können On-Metal-Tag auch an den Verwendungsort angepasst werden.