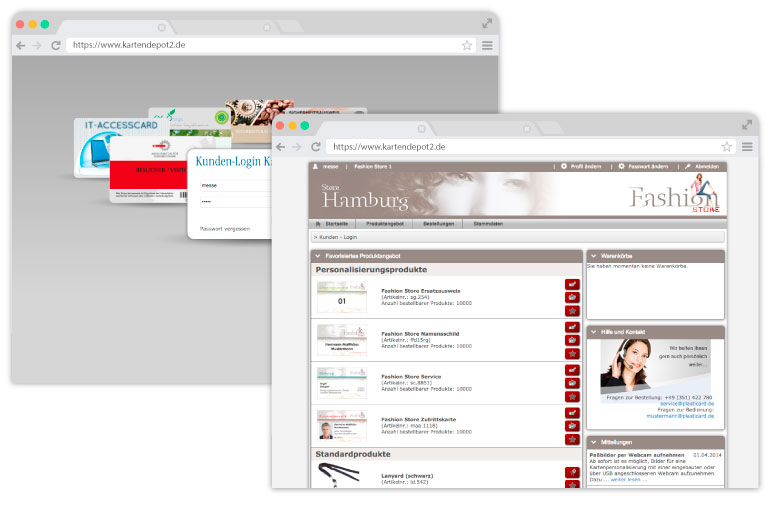 Personalising Cards On-Request
You quickly need personalised ID- or customer cards but do not want to have neither your own equipment nor personnel for it on site? Platicard-ZFT offers as an external service provider an online-portal for the ordering and management of ID-, customer, or membership cards. If needed, the system can also be handled via an interface with you existing card-management-system or per direct import for the HR-module, e.g. by SAP.
You data is always protected according to GDPR. You can find more information on that under Auftragsdatenverarbeitung und Datenschutz. On demand, we deliver a contract for the contract data processing and the technocal-oranisational measures (TOM) in place on our site.
Your card blanks are stored, free of charge, in a secure depot at Plasticard-ZFT. In advance, we agree on the way of personalisation and the terms for the request. For requesting personalised ID-cards you receive one or multiple accesses to the online-ordering system. Subsequently, you can enter or upload the needed personalisation data online. Plasticard-ZFT produces and delivers the personalised card in 24 h, 3 working days or by arrangement. We are happy to show you further details during a live demonstration.
Card depot = card shop = Card-Management- System?
The solution "Kartendepot" is not a shop system and not a Card-Management-System! The online-portal "Karten¬depot" is designed to fit the complex needs of order-da¬ta processing and is accessible for only the person authorised to order the ID-cards. An order access is exclusive and re-quires the closing of a personalisation contract. You can find more information under Card Management.
The portal www.kartendepot.de has been online for more than 10 years and has proven successful with uncomplicated and secure ordering process. In the Kartendepot 1.0. you can access all information regarding you stored card around the clock:
Layout of the blank (all available card types)
Layout and type of personalisation
Inventory of cards in the depot
Status of all orders given
By directly entering new data in the intended data field or by uploading data via an Excel-spreadsheet, new ID-cards can be requested any time. For a non-bindin test visit please use this link: www.kartendepot.de To gain a sample access just enter "test" both for user name and password
Since 2013, the second stage Kartendepot 2.0 is online for customers with more complex needs. 
Kartendepot 2.0 is an online ordering system that allows custo¬mers to order a wide range of personalised ID media (ID cards, tokens, labels, letter shop etc.) and accessories with only a little ef¬fort. The products we have stored in our warehouse can be created, managed and ordered online. Any number of blank versions (employee, visitor, externs, replacement ID) and any number of variations of the personalisation can be ordered. As a user, you can manage your accesses, authorise new ordering places and persons and set new transfer prices. The history of ID-cards and orders is transparently shown. This system can also be used to map specially adapted reseller or central depots for di¬rect use by final customers or individual branches.
Ask us, we are happy to advise you!