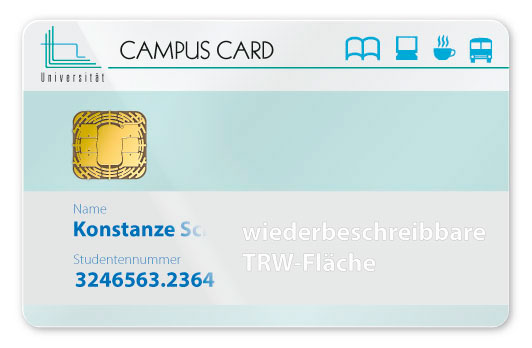 What is Thermo-Rewrite (TRW)?
TRW-foil on the card surface enables the card to be repeatedly visually personalised, meaning the deleting and rewriting of cards. This technology is especially useful for ID-card with changing parameters such as the term dates on student ID-cards, name and validity date on visitor ID-cards and for temporary or timed licences (e.g. date of the last training course). With the help of this flexibility, the ID-card can be kept up to date for longer periods and thus protects the environment and the budget.
Applications of TRW-cards​
University student ID-cards
Student ID-cards
Visitor cards
Tickets and event pass
Tickets
Skiing passes
TRW-printing: That's How It Works
Für das Drucken und Wiederbeschreiben ist ein spezieller TRW-Kartendrucker notwendig. Die Einfärbung der Personalisierung kann dabei in Blau oder Schwarz erfolgen, was jedoch nicht vom Drucker, sondern von der verwendeten TRW-Folie auf der Karte abhängig ist. Der Thermokopf des TRW-Druckers regt dabei die TRW-Folienschicht auf der Kartenoberfläche zum Einzufärben bzw. verblassen an. Färben oder Löschen wird über die Regulation der Hitzeintensität und Abkühlgeschwindigkeit des Entwicklers in der Folie gesteuert.
| | |
| --- | --- |
| 10 mm stripe, horizontal | blue or black |
| 20 mm stripe, horizontal | blue or black |
| TRW-field in a free format | min 8 x 40 mm, blue or black |
| full surface coating | blue or black |
How Often Can TRW-Field be Rewritten?
According to official statistics, a lifespan of 500 write-and-delete-cycles is estimated. However, this figure is rarely reached in praxis. Faulty printer settings, dirt, or too much UV-influence can significantly shorten the theoretical figure. Proper maintenance of the printer and the adherence to instructions is strongly advised!
Caution! Sensitive to Light 
Cards with a TRW-coating should be protected from the sun. The sensitive layer yellows under the influence of UV and becomes unsightly.
You may also be interested in:
© andreynikolaev.com– shutterstock.com

© Alexandr Bognat – stock.adobe.com

© abimagestudio – stock.adobe.com