Correctly Creating Printing Data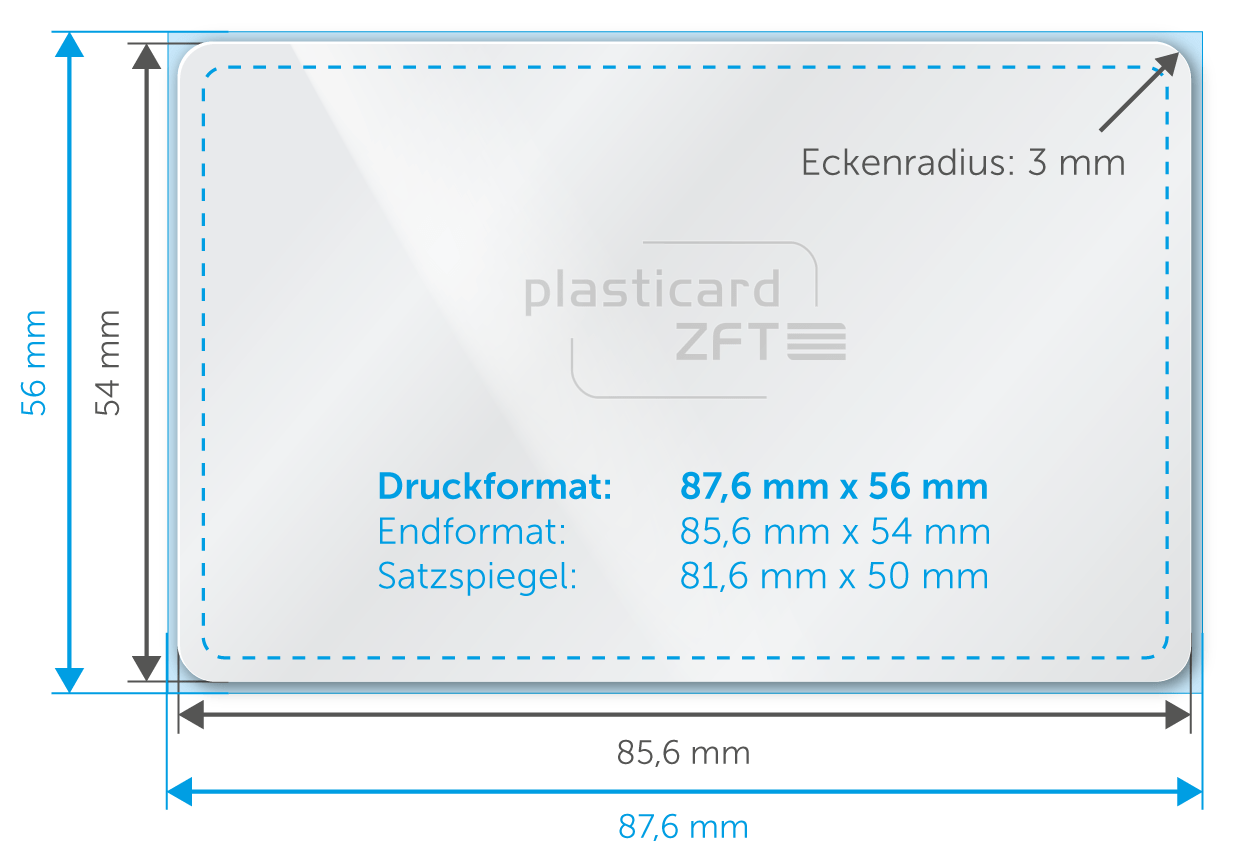 Format
For plastic cards in the standard ISO-format your printing data should be created with 1 mm bleed margin on all sides, meaning in an 87.6 mm x 56 mm format. From this the card end format (85.6 mm x 54 mm) is cut out with a corner radius of r=3mm. Place the important elements of such as logos and texts within the so called type area (81.6 mm x 50 mm).
Resolution
For a brilliant and crisp printing result, your printing data should have a minimum resolution of 300dpi.If your design includes texts and/or fine graphics, we recommend a resolution of 600dpi.
Colour Space and Colours
We can print in scale colours, special colours or with the OSP Advances method. For printing in scale colours, the data needs to be in the CMYK colour space. Special colours can be printing as cartridge or HKS colours. Here the special colours need to be names precisely (e.g. HKS 14 K). For the OSP Advanced method, the data can be created in the RGB colour space to achieve maximal colour brilliance.
Data Format
You can provide your printing data in various formats. We support PDF, TIF, JPG, or EPS. Also open data formats such as InDesign (indd), Illustrator (ai) or Photoshop (psd) are possible.
Data Check
We check all incoming data regarding printability and will point out possible problems to you. Prior to production, you will receive a proof sheet for authorisation. If you upload your data to our reseller shop, you will get an immediate feedback whether your data is suitable for printing and can give the printing approval directly online.
Do you have any questions?
We are happy to help! Contact our staff from the pre-printing stage. We are available from Monday til Friday, 8am - 6pm via phone +49 (0) 351/ 422 78 0, via Live-Chat or any time via email under: